red flowers /canyons..Felt Wall Hanging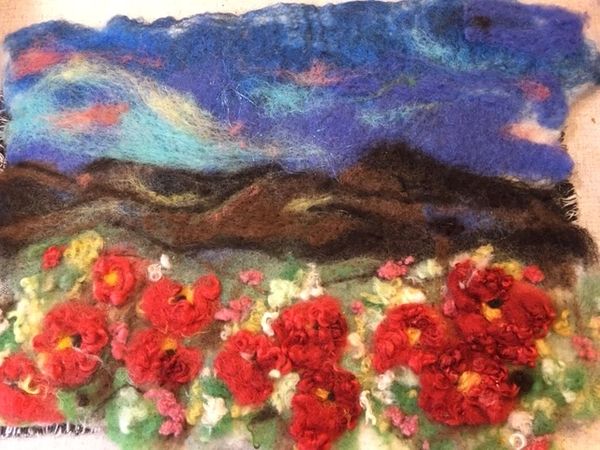 This landscape wall hanging was all done by me..a combination of wet felting and needle felting ..this is a picture representing the area I live in De Luz...my view of the canyon...
Wool was cleaned, picked and dyed..then carded..basic lay out was done in several layers..then wet felted..wet felting takes about two days..one to complete it and one to dry. Next, I took locks and various other fibers, and needle felted (painted the landscape)..this took several more days..
Piece is approximately, 17" long and 13" tall, can hang framed, open (no glass) ..or hang with wire, etc (piece comes like the picture, not framed)
Care: can be lightly shook out (for dust), or lightly patted...
Have an interesting piece to display, adds to the room...
comes with hangers (optional use)..$5 of this sale will be donated to the local program : wings of Change //an organization to help the Monarch butterflies