Felt/Silk handmade gift /wine bag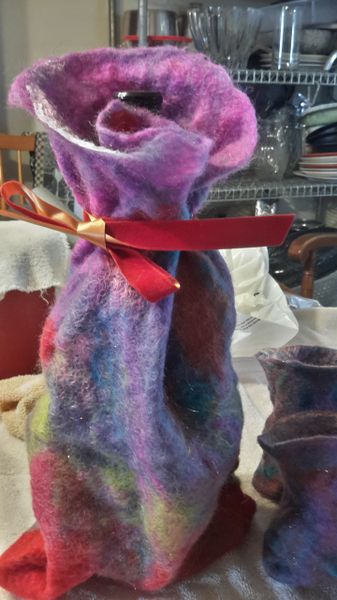 A lovely handmade wine /gift bag! 
These wine/gift bags are handmade , using a wet felting technique. We take raw wool and silk, (some of our own hand carded and dyed wool from our sheep/angora goats) plus many more fibers, lay them out...then use our own goat milk soap and warm water to create this unique, all handmade bag. Takes approx 1 to 2 hours to make , and a day or two to dry.
$5 from each sale is going to go to : Tir Na Nog Horse rescue group in San Diego
All bags are different, unique ...beautiful...all are their own piece of art!..what a great gift or conversation piece!

Wool is naturally moisture repellent,  and very soft to protect surfaces ...
Please allow at least one week , and comment on a color choice , colors depend on what we have in stock ...or just be surprised!

Bottle of wine not included...
Large enough to fit most bottles of wine
What people that have bought these said: They bought it for a gift bag, one said it was awrap for a special bouquet, one for a new home for a ferret..., one said it was going to be displayed on her desk...