CAT CAVES/ PODS!!! All handmade felted cat pods....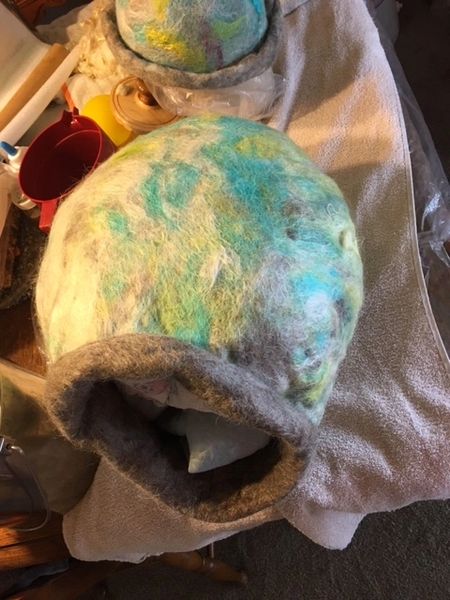 Eco-friendly,  handmade cat cave! 
Great place for your cat/kitten to enjoy naturally nesting and feeling safe in his or her own safety spot.wool can help cool and keep warm, it's a natural, green material that's pleasant , soft and inviting to your cat or even small dog / ferret/ snake 
Great for those that tend to be a little anxious too
Facts about them : they are made from the wool I have here ..some from the awesome rescue farm : Tir Na NOG ..(please visit them and donate to this awesome farm sanctuary)..my own angora goats, my sheep too.
I wash and clean the wool, I pick it (as much as I can ...some little vegetation matter remains and small clumps ..those assure you that this is NOT commercially made in any way!)...not knitted ..

I then put it through a carder, then I either leave it natural colored or I dye it myself
I wet felt it (it takes about two hours of wetting , shaping, rolling...its allot of work )..then I set it by stuffing it to shape it for 24 to 48 hours
They all come out different, they vary in color (if you want a certain color , I can try to get close to what you want ..this is completely handmade by me ..so sometimes it surprises me!) or its assorted..they are large enough to fit my ginormous cat..so a normal or small (or even gigantic) cats can fit in to it ...
Care : hand wash only, lay out to dry ..stuff it with towels to retain shape (can use starch and iron it to get the shape back...my large cat layed on top of his, so I had to reshape it !)..it likes keep to loose fur too ..so you can use a lint roller on it or vacuum it ...

Wool is cool and warm..its antibacterial and fire resistant .
Great as a gift, or for your fur babies ...kittens love them too ...small dogs, etc
I have made them for: cats, small dogs, snakes, etc
just fyi: it takes a few days to make , so shipping will be a little bit longer ...
coupon code :thankyoucode to get 10%off